Recipe review: I spent part of Sunday stirring up Nigella's Risotto that I blogged about last week. Yes, there was a fair bit of fiddle faddling, I probably spent 30 minutes just stirring the broth in. And I had to use beef broth, rather than the veal broth the recipe called for. If you are looking for a fast dinner to put on the table, this is not your recipe. As we sat at our dining room table with steamy bowls of cheese topped risotto in front of us, accompanied by a warm, crusty baguette, I felt it was definitely worth it.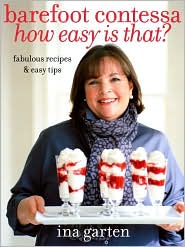 Next up? Something from Ina's new cookbook "How Easy Is That?"
Faithful blog readers will know that Ina Garten is one of my favorite chefs, and all of her cookbooks have a home on my shelf. I love her style, her idea of having great ingredients and simple preparation, and someday I want to have lunch in her garden in the Hamptons.
I have chosen Lemon Chicken Breasts, for several reasons. Our little neighborhood grocery store had chicken breasts for $1.99 a pound last week, and I stocked up. And I adore citrus in January-we tried a clementine and chicken recipe earlier this week.
Lemon Chicken Breasts - serves 4
1/4 c. good olive oil
3 Tbsp. minced garlic (9 cloves)
1/3 c. dry white wine
1 Tbsp. grated lemon zest (2 lemons)
2 Tbsp. freshly squeezed lemon juice
1 1/2 tsp. dried oregano
1 tsp. minced fresh thyme leaves
Kosher salt and freshly ground black pepper
4 boneless chicken breasts, skin on (6-8 oz. each)
1 lemon
Preheat the oven to 400 degrees.
Warm the olive oil in a small suacepan over med-low heat, add the garlic, and cook for just 1 minute but don't allow the garlic to turn brown. Off the heat, add the white wine, lemon zest, lemon juice, oregano, thyme, and 1 tsp. salt and pour into a 9 x 12 inch baking dish.
Pat the chicken breasts dry and place them skin side up over the sauce. Brush the chicken breasts with olive oil and sprinkle them liberally with salt and pepper. Cut the lemon in 8 wedges and tuck it among the pieces of chicken.
Bake for 30-40 minutes, depending on the size of the chicken breasts, until the chicken is done and the skin is lightly browned. If the chicken isn't browned enough, put it under the broiler for 2 minutes. Cover the pan tightly with aluminum foil and allow to rest for 10 minutes. Sprinkle with salt and serve hot with pan juices.
I am thinking Pioneer Woman's Crash Hot Potatoes:
http://thepioneerwoman.com/cooking/2008/06/crash-hot-potatoes/
would be about perfect with this, along with some steamed green beans dressed with lemon and butter.
Are you hungry yet?