Last week was rather cool, and fallish, and put me in the mood for some autumnal baking. I had a bowl full of Ginger Gold apples from the Farmer's Market, just crying to be made into something. I had already done crisps, a couple of times, and wanted something more cake-like.
Fortunately, I had just picked up this cookbook, at a recent Half Price Books sale event. "Heirloom Baking with the Brass Sisters: More than 100 years of Recipes Discovered from Family Cookbooks, Original Journals, Scraps of Paper, and Grandma's Kitchen".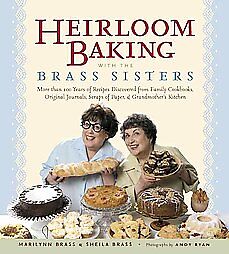 It is a treasure trove, one of those cookbooks that you can sit and read like a novel. It is beautifully put together, the inside cover art is old recipes handwritten by cooks long gone. The food styling is lovely, the recipes easy to follow with little tips thrown in along the way. No wonder it was nominated for a James Beard Foundation Book Award! And now I can forget about that project I have on my list, to go through all of the old recipe cards I have been buying up at yard sales, to put into a cookbook. At least the baking part!
Inside, on page 164, I found exactly what I was looking for. It is by no means low calorie, or a fast dessert, but oh my, it was worth every calorie and minute spent preparing it:
Chopped Apple Cake with Sticky Toffee Topping
(from the 1930's)
for the cake:
2 c. sifted flour
1 tsp. baking soda
1/4 tsp. salt
1 tsp. cinnamon
2 c. sugar
1/2 c. butter
2 eggs
1 tsp. vanilla
4 c. raw apples, peeled, cored, and chopped by hand
1 c. walnuts, finely chopped (I substituted pecans)
for the toffee topping:
1/2 c. butter
1 1/2 c. dark brown sugar
1/8 tsp. salt
1 c. heavy cream
1. Set the oven rack in the middle position, preheat the oven to 350. Line the bottom and sides of a 9" x 13" pan with foil, shiny side up, and coat with vegetable spray.
2. To make the cake: Sift together flour, baking soda, salt, and cinnamon.
3. Sift sugar into bowl of standing mixer fitted with the paddle attachment. Add butter, and cream together. Add eggs, one at a time, beating well after each addition. Add vanilla. Add apples alternately with sifted dry ingredients, beating after each addition. Fold in nuts.
4. Spread batter evenly in pan. Bake 1 hour, or until cake pulls away from sides of pan and tester inserted into cake comes out clean. Cool on rack 25 minutes, or until just warm.
5. To make the toffee topping: Melt butter in a heavy metal saucepan over low heat. Add brown sugar and salt and whisk until blended. Add heavy cream, increase heat to medium, and stir with a wooden spoon until mixtures comes to a boil Boil 5 minutes, stirring constantly. Remove from heat. Mixture will thicken as it rests.
6. Make several slits in warm cake with a butter knife. Pour sauce over cake. Let rest until topping sets, about 15 minutes. Serve with vanilla ice cream or unsweetened whipped cream. Store loosely covered with wax paper at room temperature.
And I can tell you that the leftovers make a very nice breakfast.